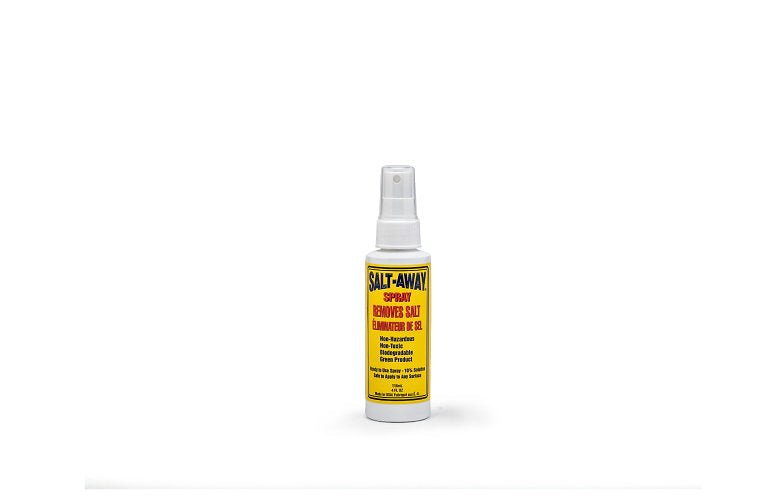 Salt Away Cleaning Spray
Original price
$7.99
-
Original price
$13.99
Availability:
5+ in stock, ready to be shipped
Availability:
5+ in stock, ready to be shipped
Salt-Away has been around for quite a few years, and I've used it religiously on my own boats and reels. The product is the best of it's type on the market, with testimonials and scientific back-up to prove the point. It's the best in the business for salt reduction and removal.

There are three basic methods of removing salt with Salt-Away:
1. Immersion
2. Pressure from spray bottles, compression pump sprayers, garden or other hoses, pressure washers. Diluting Salt-Away is necessary either by pre-mixing or by delivering it from a device that is set to the correct dilution ration while attached to a water hose.
3. Wet vacuuming
How do fishermen and boaters use Salt-Away, the basic how-to's of it all…
1. Reel bath – use a diluted solution of Salt-Away in a bucket and dunk your reel if it's been exposed to a lot of salt or been immersed in saltwater. Crank up the drag (lever or star) when dunking, back off to allow the reel to dry. In some cases it's not a bad idea to crank the handle a few turns to loosen intruded salt deposits.
2. Spray down – if the salt exposure is minimal use a diluted spray to dissolve the salt particles and then wipe 'em off the reel.
3. Boaters should flush their outboards after saltwater use. The proof is graphic and demonstrable, if you flush your motor after saltwater use, it WILL LAST LONGER.