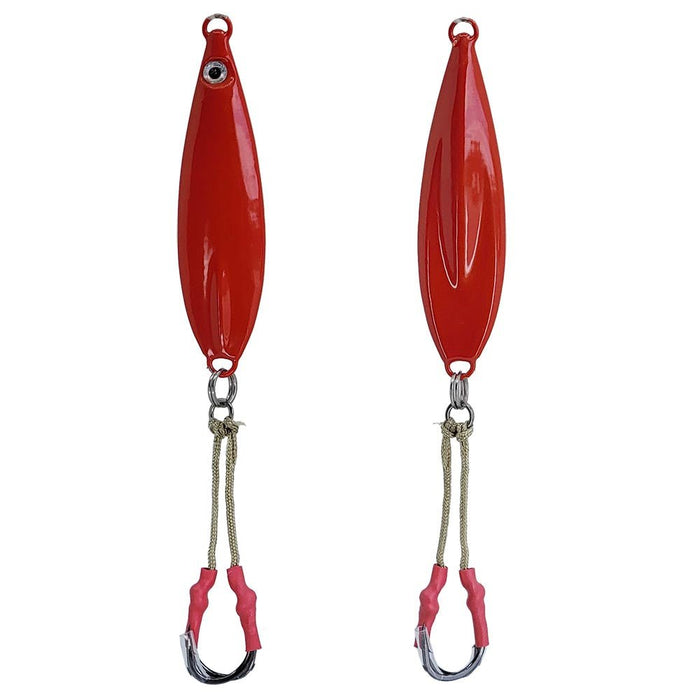 LM Fall Flat Jim's Jigs
Original price
$5.99
-
Original price
$18.99
Great vertical jigs for pelagic species
Variety of sizes & colors for any application
Large 300, 400 & 500gm Glow sizes perfect for huge bluefin
Tested & proven jigs that have caught many bluefin over 200 lbs
Smaller red crab sizes perfect for slow pitch jigging & inshore species
Here's a very effective lure, well proven in 2016. Schoolie tuna, both bluefin and yellowfin will gobble these up. The Fall Flats are a metal jig that has a slower action on the drop, fluttering like a baitfish that's in shock from being hit by a predator. These are relatively slow drop jigs. We're focusing on their heavier weights at the present time. If you want lighter weights we can certainly get 'em, but really also have that base well covered with a similar jig from Savage Gear (their Squish jigs). The finish of these is quite good, will reflect light well. There are some similar lures out there, so why do we like these? The weights and finish are consistent to what we were looking for, and the rigging was done right. No cheezy making bait type assist hooks. The hooks used for these jigs are of heavier gauge steel, and a bit larger than what you'd likely see on some other similar products in the marketplace. Pricing is also fair for what's offered. So, we're glad to offer our clients a lure which should be helpful, both for the smaller schoolies and capable of taking much larger tuna under the schoolies with the higher 200 and 250 gm weights.

For 2019 and beyond we have a new color pattern which many will find very useful. We've all een bait balls of red tuna crabs offshore which yellowfin love munching. The manufacturer of the Fall Flats introduced a new Red Crab version of their popular jigs fall of '18. We're stocking these in three sizes, 80gm, 125 and 160. The jigs make use of the same quality hook rigs, very much capable and proven performers on the big bluefin tuna we've had off San Clemente for the past couple years. That's something you can't say for some of the other similar jigs on the market which offer hooks only good for smaller rockfish.

(The ToroTamer Slash jigs in 300 and 400 gm are what's recommended for targeting the deep water tuna – fish holding 300 feet and greater. The original Fall Flats, are a slower action jig and more often than not used above that depth, even within 25 feet of surface for good effect. The new 400 & 500 gm model Fall Flats will prove better suited for the deeper water bluefin off CA's coast or the Slash at 300/400gm. Nothing lighter is really worth dropping over the side of the boat, you'll have too much scope and the slow drop will be to your disadvantage).